I've been checking some domains on the priority status tool auDA provide for the new direct .au registrations, one of those was go.au. All extensions for go are returned as Declined: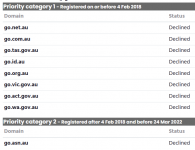 The domain appears to be a reserved name according to auDA policy.

The only clause I can see it matching in Section 2.6 is that which is reserved for auDA's future use:
2.6.4 .au Domain Administration may reserve names:

that pose a risk to the operational security, integrity and utility of the .au domain;
where it is necessary for the proper administration of government; and
for future use by the administrator of the .au ccTLD for operational purposes or as second level domains.
I've checked the reserved names list at
https://www.auda.org.au/policy/reserved-list-policy-2014-06
, and it's not listed, however the page does say it's a non-exhaustive list.
Why is "go" a reserved name? What does it mean for the existing registrant? Are they able to renew it?