I know I share a lot of tools here, but this one is excellent!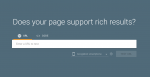 It's an official Google tool that tests if a URL supports rich results using structured data. It's not 100% spot on, but it's very new so guessing it will be improving rapidly.
You can test using both desktop and mobile agent, for URLs and code snippets.
https://search.google.com/test/rich-results
If you are seeing any interesting results, I'm keen to see them.